Get The Best DIRECTV Entertainment
How many channels do you want?
FREE INSTALLATION*
*Standard Installation included for up to 4 Rooms
Get the first 3 months
of HBO®/STARZ®/SHOWTIME®/CINEMAX®
included at no extra charge1
1With SELECT through ULTIMATE & PREFERRED CHOICE Pkgs. After 3 mos., services automatically continue each mo. at then prevailing rate (currently $53.99/mo.) unless you call to change or cancel. Req's you to select offer.
2019 NFL SUNDAY
TICKET
Every live game. Every Sunday. Only on DIRECTV. Get 2018 NFL SUNDAY TICKET when you order DIRECTV CHOICE or above package. **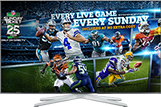 **Out-of-market games only. Select int'l games excluded.